Masterpiece ... a supreme artistic achievement; sometimes the work of one, sometimes a collaboration of many.  In the world of vocal music, it is the marriage of multiple efforts to seamlessly become one.  Rob, Patrick, Alan, and Brett have enjoyed success in various groups over their varied musical histories, and have finally come together to share a unique sound and experience with their audience.
 
It's here!

Masterpiece's 3rd recording, "Let's Live it Up!" is available for sale now.

Please check out the RECORDINGS tab above to order yours today!


MASTERPIECE WINS THE 2013 BARBERSHOP HARMONY SOCIETY'S QUARTET COMPETITION!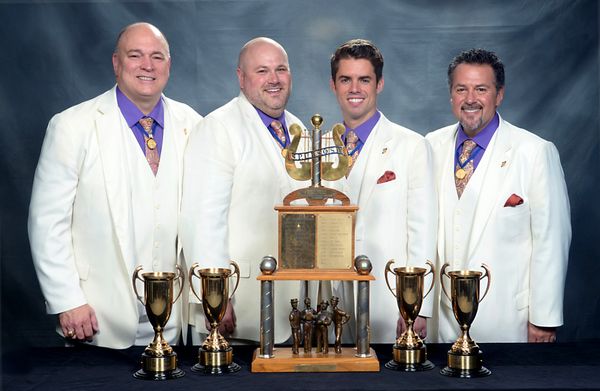 Here is the official press release from the Society:

Three past-champion singers plus a hot young lead combined to bring MASTERPIECE the gold medals in Saturday's world championship competition in Toronto.

Singing music ranging from Kathy Mattea's "Where've You Been" to American classics "Tennessee Waltz" and "Sweet Lucy Brown," the quartet emerged from a pack of fifty quartets at the contest, held at the 75th Anniversary Convention of the Barbershop Harmony Society.

Experienced singers Bass Brett Littlefield and tenor Rob Menaker sang in 1996 champion Nightlife; baritone Alan Gordon sang in 2004 champ Gotcha!; and lead Patrick Haedtler previously sang in international competition with The Crush.

The top five finishers were, in order::

1. Masterpiece -- 8041 points, 89.3%
2. Musical Island Boys -- 8002 points, 88.9%
3. A Mighty Wind -- 7924 points, 88%
4. Main Street -- 7825 points, 86.9%
5. Forefront -- 7758 points, 86.2%


2013 Contemporary A Cappella Recording Awards

Masterpiece won for Best Barbershop Album and Best Barbershop Song ("Stormy Weather")

click here:  https://www.casa.org/cara2013w  to see all the winners and runner ups!


** You can purchase this award winning CD on our Recordings tab or on iTunes! **


If you'd like to hire us, please contact us at bookings@masterpiecequartet.com

 And while, we're at it... come see us at these performances!